Meet Dr. Nick Triandos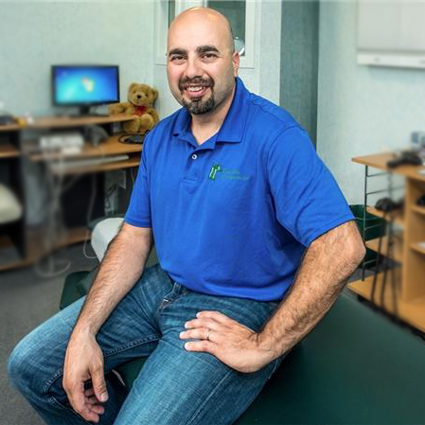 As an undergrad, Dr. Triandos was trying to figure out what he wanted to do with his life. His roommate was in the Reserves, and he flew with a guy who stayed with them. "I found out he was in chiropractic school and it sounded pretty amazing to me." Dr. Triandos was so intrigued by the idea that the body can heal without drugs or surgery that he decided to pursue a career as a chiropractor.
Providing Friendly and Honest Care
Many patients remark that Dr. Triandos is easy to talk to. He often hears patients say, "Thank you for explaining what's going on." Dr. Triandos provides easy-to-understand explanations of what's happening. He also is honest and will let you know if he thinks he can help you or not.
Compassionate and kind, Dr. Triandos genuinely cares about everyone who comes to our clinic. "I look at every person as the important individual that they are-not a number or a collection of symptoms."
Changing Lives
For Dr. Triandos, the most fulfilling aspect of being a chiropractor is getting people better. From helping a young mom with back pain from toting her toddler to a senior who wants to get back to golfing, we love helping patients return to what they love. "We hear all the time that we're changing lives, which is very rewarding."
EXPLORE CHIROPRACTIC
Education and Accreditations
Dr. Triandos earned his Doctor of Chiropractic from Life University in 1998. He has the following certifications:
Applied Kinesiology
Cox Technique
Chiropractic BioPhysics®
Full spine adjusting
Acupuncture
Neuromuscular treatment
Proprioceptive Neuromuscular Facilitation (PNF)
Titleist Performance Institute (TPI)
Outside the Practice
When he's not caring for patients' spines, Dr. Triandos enjoys spending time with his wife and their two children, a son and a daughter. He also likes cooking and playing golf.
Contact our Alexandria practice today to schedule an appointment!
---
Dr. Nick Triandos | (703) 548-5600